Juluka Yoga Studio was conceived by a strong desire to provide more yoga opportunities for the growing number of practicing yogis and yoginis in the area. It is also our hope to expose and introduce yoga to those who have wondered and have been curious about it, but have perhaps been hesitant or even intimidated by the idea.
We recognize the full teachings and traditions of yoga. Hatha yoga is taught at the studio with a Vinyasa flow component. All our classes include some pranayama and meditation. The asana classes range from meditative and gentle to a vigorous and exhilarating.  There is something for everyone, from the beginner to the very experienced. 
We truly look forward to meeting you.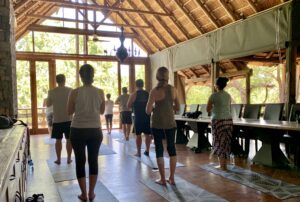 The word "juluka" means "sweat" in Zulu. ​
The studio was founded in December 2006 by South African native Mandy Grant, in an effort to provide a nurturing environment to embrace the practice of Yoga and create a channel of opportunity to give back to the community and those in need. Juluka practices its Karma Yoga by providing a percentage of the profits from the studio to feed and clothe AIDS orphans in Kwa-Zulu Natal, South Africa. Also, 100% of profits from our Community Classes' donations go to various other charities.