Cinque Terre & Tuscany: Sunday August 21st, 2022 – Sunday August 28th, 2022
8 day, 7 night Yoga / Walking Vacation Highlights
Kayak & snorkeling in Portofino

 

Borgo Storico di Manarola

               

Chianti Wine & Olive Oil Tasting

 

4 Course Tuscan Cooking Class in Tuscan Farmhouse
Private Tour of Florence with local guide, including skip-the-line tour of Ufizzi Museum
Cibo squisito
Day 1: Sunday August 21st – 10am
Meet and greet at the Christopher Columbus statue in Piazza Principe, Genoa, the main train station in Genoa. (Genova). Together we walk a few minutes to our train, for the coastal scenic route to Portofino-Santa Margherita Ligure. Transfer to our delightful hotel, a quick check-in and then we begin our first hike!  En route to San Fruttuosa, we stop for our first meal together, high above the med, at a local farm style restaurant, with stunning vistas! After lunch we continue through the Mediterranean woodlands, shrub-lands and olive groves of  Portofino Natural Park, until we descend to Abbey of San Fruttuoso di Capodimonte  in a small bay which can be reached only by boat or foot. After a visit to the Abbey, which was built in the 10th Century, and the quaint fishing village, you may want a dip in the ocean. Then it's an exhilarating ferry ride back to Santa Margherita Ligure and our hotel.  Dinner together at the wonderful Reve Cafe and Restaurant.
Walk-5 miles moderate 2.5 hours
Santa Margherita Ligure/Portofino. Hotel Sant'Andra. Lunch. Dinner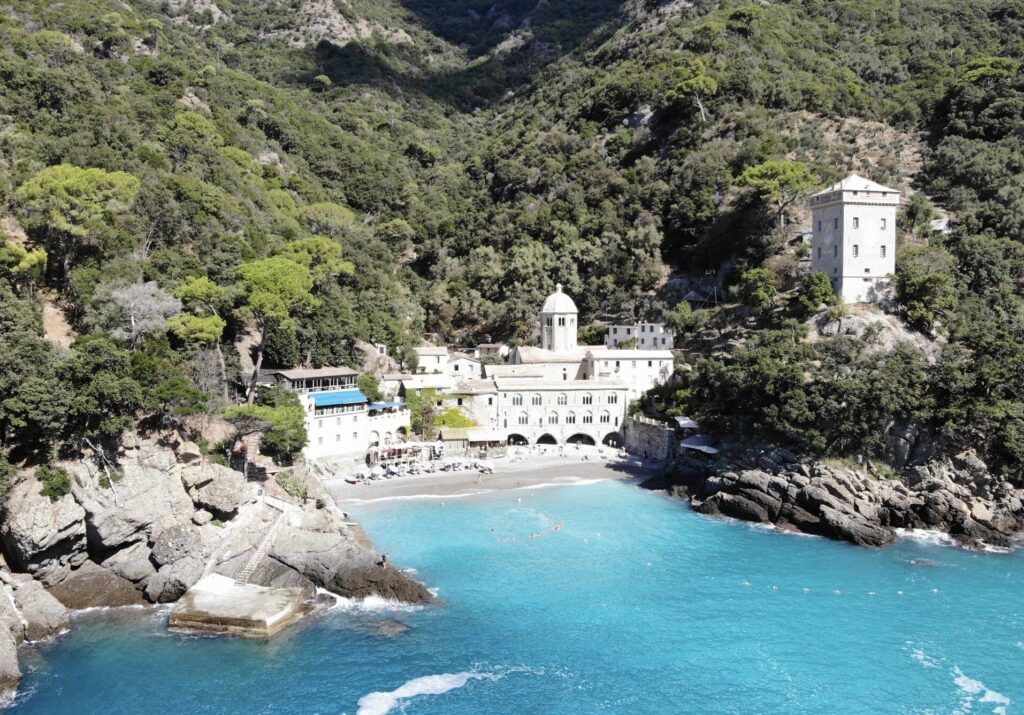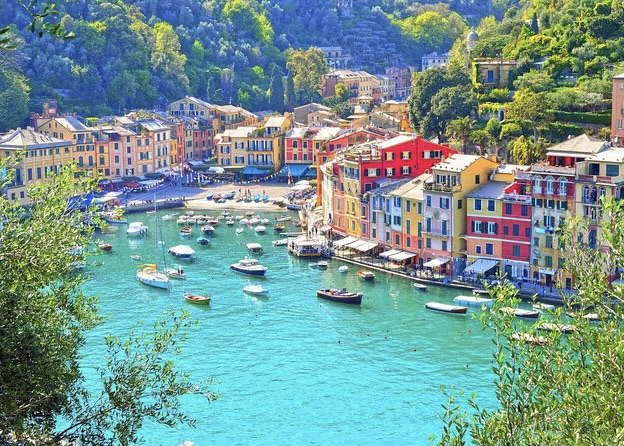 Day 2: Monday August 22nd
Morning yoga, followed by breakfast. We then check-out of our hotel, bags will be stored. Our walk takes us  along the coast and promenade towards Portofino, where we will meet our kayaking guide.  We embark on an easy level paddle to experience the important ecological, wildlife and historical attractions of the area from a unique and exclusive perspective, Paraggi's ecosystem, Portofino's lighthouse and village, the eighteen-century Church of San Giorgio. Famous for its Posidonia "meadow" the bay of Paraggi is is extremely rich in flora and fish fauna.  Enjoy lunch on your own at one of the delightful cafes in the jet set, beautiful Portofino. Late afternoon we transfer to Porto Venere. Relax into your new surroundings until dinner, at one of our favorite local restaurants, Elettra.
Walk-2.5 miles easy 45 minutes. Kayak-2.5 hours easy/moderate
Porto Venere. Hotel Albergo Ristorante Paradiso. Breakfast. Dinner
Day 3: Tuesday August 23rd
Early breakfast. Today we set off on an early transfer to Riomaggiore, the first town of the Cinque Terre. The views along the hike are indescribably breathtaking and the authenticity of the charming little towns envelopes us into the beauty of this special World Heritage Site. There are several hiking options, according to your skills and needs. The full hike will take us to the northern most town of Monterosso and takes between 5-6 hours. There are,  however,  trains connecting the towns, so it's very easy to hitch a ride on the coastal train between a town or two. Today you will be able to sample any of the restaurants along the hike for lunch. We will take the train from Monterosso to Manarola, (only 11 minutes), then road transfer back to our hotel which is about a 35 minute ride. Tonight you are free to experience a restaurant of your choice for dinner in the charming town of Porto Venere.
Walk 3-6 hours. Easy, moderate or challenging.  3 miles – 9 miles
Porto Venere. Hotel Albergo Ristorante Paradiso. Breakfast.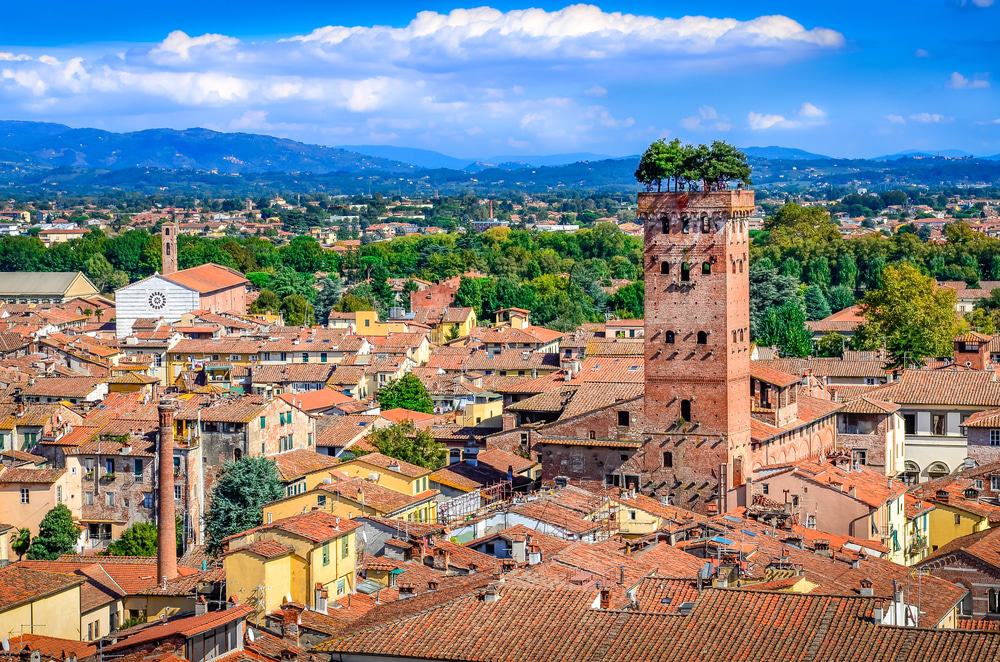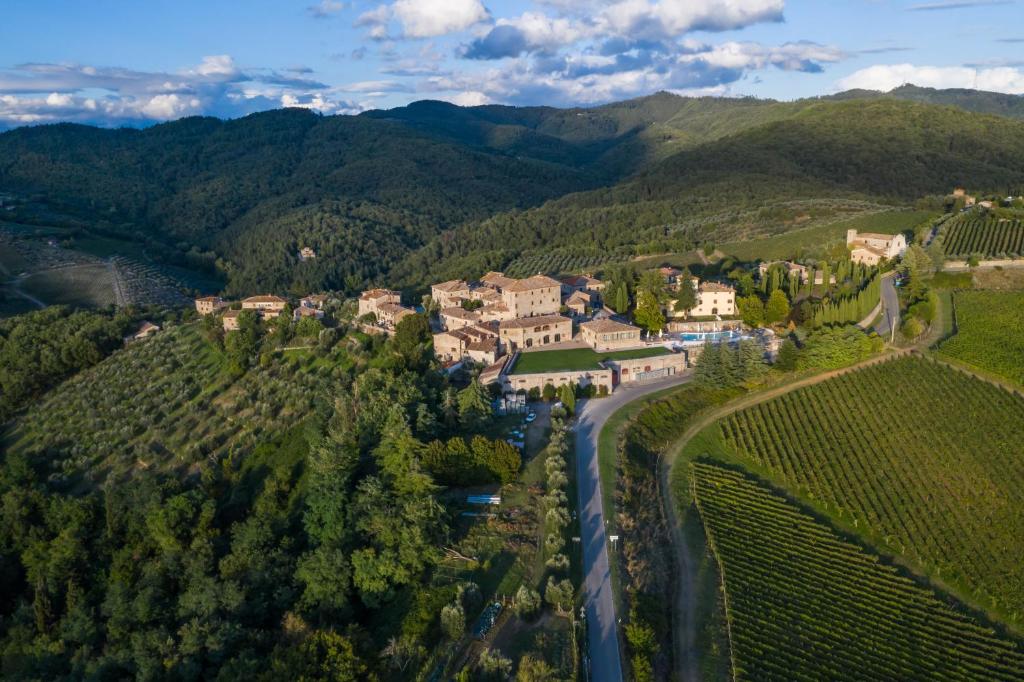 Day 4: Wednesday August 24th
Morning yoga and breakfast. We will check-out of our hotel and our luggage will be in the van that meets us in Le Grazie. Our hike this morning, is The Porto Venere-Le Grazie Hiking Trail, which links the two villages together and is also referred to as the Trail of Martina as it passes through an area named after a girl who inspired a local legend. We will pass the Roman villa at Varignano, which dates back to 2nd Century BC!  We have time to marvel at our surroundings of typical Mediterranean vegetation as well as the views of the Island of Palmaria, offering a protected bay for boaters and sunbathers. During the 1800s it was a regular destination for English poets, including Lord Byron and Percy Bysshe Shelley.  (Shelley tragically drowned when his boat went down while returning to the town of Lerici in 1822.)  We are met in Le Grazie to start our second chapter, heading towards the treasures awaiting us in Tuscany! A stop in  the walled city of Lucca for a delicious meal at a trattoria, followed by a guided walking tour of this charming medieval town. The attractions in Lucca today show its ancient history, from the trace of the Roman amphitheater that can be seen in the shape of the Piazza dell'Anfiteatro  to the archeological remains under the 12th century church of Saints Giovanni and Reparata, to the various towers and villas from the 12th to 16th centuries.   We continue into the heart of Tuscany, arriving at the delightful Radda in Chianti to check into our gorgeous hotel.  We won't need to venture too far after our day of travel, to enjoy a scrumptious Tuscan meal at the superb restaurant, La Perla, in our hotel.
Walk 4 miles 3 hours. Easy
Radda in Chianti. Hotel Palazzo San Niccolo & Spa. Breakfast.  Lunch. Dinner
Day 5: Thursday August 25th
Morning yoga and breakfast. Our first Tuscan walk finds us in the vineyards and olive groves of Chianti. We visit an organic wine estate for a guided tour and tastings in the the village of Castagnoli, which  rises from the heart of the Chianti Classico, on a hill once frequented by the Etruscans. The buildings of the estate were once an ancient medieval fortress We learn the wine-making process from start to finish, as well as discovering how that delicious extra virgin olive oil ends up in our cooking! The tour is then followed by a wine and olive oil tasting and lunch at their wonderful restaurant. We hitch a ride back to the hotel with the van, leaving free time to relax or indulge in one of the sublime treatments at the hotel spa. 
Walk 7 miles 3-hours. Moderate
Radda in Chianti. Hotel Palazzo San Niccolo & Spa. Breakfast. Wine tasting. Lunch.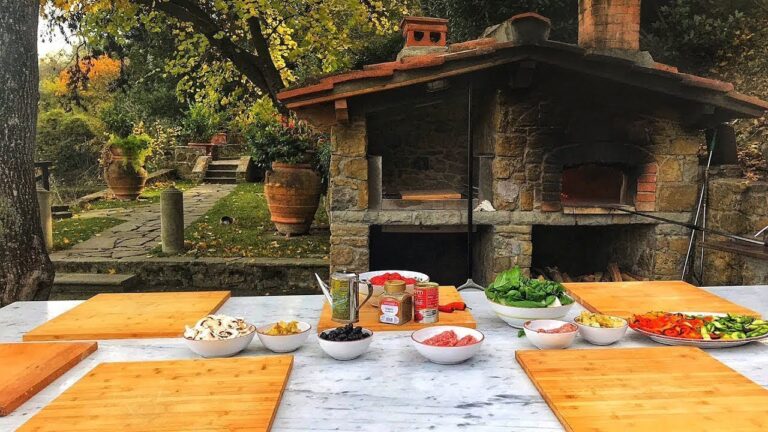 Day 6: Friday August 26th
Yoga. Another day under the Tuscan sun! Leave Radda in Chianti and descend on grassy tracks through the olive groves and vineyards below, following quiet roads and paths ascending out of the valley passing Pieve di Santa Maria Novella to Castelvecchi.  From here follow narrow paths through wild woodland before reaching the quaint hilltop village of  Volpaia. We will enjoy a light lunch, drinking in the beautiful panoramic vistas.  In the mid afternoon we are driven to a Tuscan farm, where we meet our fabulous le cuoche for a highly entertaining and informative few hours as we learn the art Tuscan cooking followed by a delicious 4 course dinner, prepared by us and our new friends!
Walk 4 miles 2-hours. Moderate
Radda in Chianti. Hotel Relais Vignale & SPA . Breakfast.  4 Course Cooking Class. Dinner
Day 7: Saturday August 27th
Morning yoga and breakfast. Mid morning, we bid farewell to our charming town and head to the renaissance capital of the world, Florence! We will drop off our luggage at our hotel and then meet our expert local guide for a 1.5 hour city tour, discovering secret gems and delights that this ancient cultural city has to offer.  We will be introduced to the famous highlights including  Florence's Gothic Cathedral Santa Maria del Fiore, Brunelleschi's Dome, Giotto's Bell-Tower, St. John's Baptistery, Ghiberti's Gates of Paradise, Piazza della Republic,  The Orsanmichele Church, the former Straw Market,  The Porcellino Fountain, The "Ponte Vecchio", Piazza della SignoriaPalazzo,  VecchioArnolfo's tower, The Loggia dei Lanzi, Neptune's Fountain and more! We will refuel at a local trattoria, near our hotel. And then it's off to be dazzled by the treasures of the Uffizi museum, led by our expert guide on a "skip the lines" tour, seeing the most important works of Michelangelo, DeVinci, Raphael and other renaissance masters. We celebrate our final evening together with a delicious "last supper" at the elegant Il Barretto. 
Walk: 3miles. Easy 4 hours.
Florence. Hotel 25Hours. Breakfast. Dinner
Day 8: Sunday August 28th
Breakfast followed by a few hours of free time in this memorable, culturally rich city. Our "avventura spettacolare" officially ends after breakfast this morning.  If you are flying home today, there is an express train to Rome (2.5 hours) or Milan (3.5 hours) airports. You may also choose to extend your stay with an extra night in Florence,(or any other cities) in which case we would be happy to provide suggestions for accommodations and transport. 
Florence. Breakfast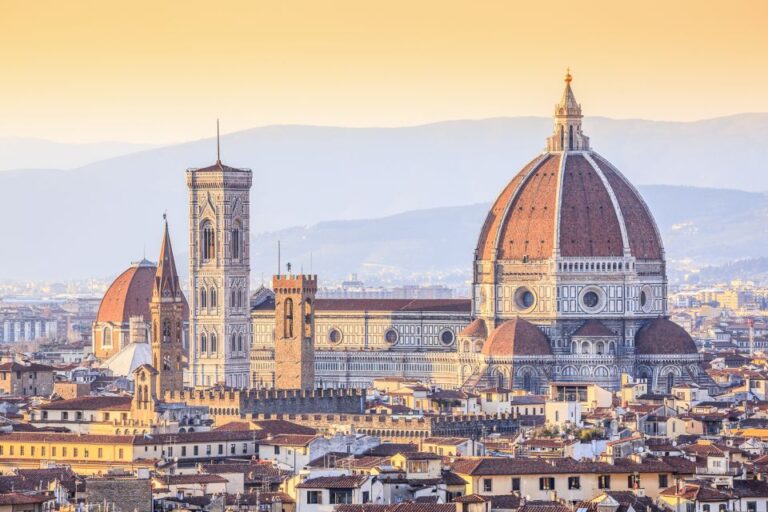 7 nights accommodation in very comfortable 3 or 4 star hotels
7 Breakfasts
3 Lunches
5 Dinners with wine
Snacks and water on walks
Professional Local Guides
Air-conditioned transfer vans
4 Course Tuscan Cooking class including dinner
Wine & olive oil estate tour with tastings and lunch
Train transfers from Genoa to Santa Margherita Ligure
Cinque Terre park entrance fee
Cinque Terre coastal train pass
Air conditioned vehicle transfers
Yoga class most mornings
All hotel, restaurant and guides gratuities
Admissions to sites and events as per itinerary
Full time tour leader/host/trouble shooter with you throughout the trip to handle behind the scenes logistics, transfers, luggage handling and any other issues that may arise
Arrival and Departure
The tour begins in Genoa promptly at 10am. You may want to spend the night before in Genoa, or even Milan. There is good train service from Milan to Genoa, and the station is steps away from our meeting point. The tour ends at 10am on Sunday in Florence. There is an airport in Florence, or you could take the train to Rome or Milan and fly home from there, or extend your Italian vacation. We are more than happy to assist you with train and airline tickets as well as pre and post trip hotel accommodation.
The bottom line
Julukaveda Vacations takes pride in offering exemplary service on all our vacations and retreats. Quality hotels in great locations, excellent restaurants, highly qualified local guides and fabulous itineraries. You receive 100% support from the minute the tour begins until the absolute end. Our tours are comparable to others that are often thousands of dollars more expensive. We believe that in order for more people to enjoy the inherent education that travel provides, we need to create affordable trips, however, we will never skimp on on the fine details that ensure your comfort.  All our vacations & retreats include physical activities. You are joining a tour that requires a decent level of fitness, therefore it is a good idea to start practice walking, several weeks before departure date if that activity is not part of your current lifestyle. 
Costs per person
Double occupancy twin or queen beds: $2950                        
Single occupancy: $3650
$500 deposit to hold your spot. Balance is due on June 1st, 2022
Travel Insurance Recommended 
Please contact julukaveda@gmail.com for more details, or call 201-638-6828