Welcome to Juluka Yoga Studio...
Located In Hillsdale, NJ...
Please enjoy the welcoming, non-competitive atmosphere, where you are encouraged and guided to take your practice forward on its exciting path. We are located in the heart of Bergen County, in Hillsdale, NJ, just minutes from Paramus, Tenafly, Alpine, Ridgewood, Oradell, Norwood and southern Rockland County, NY.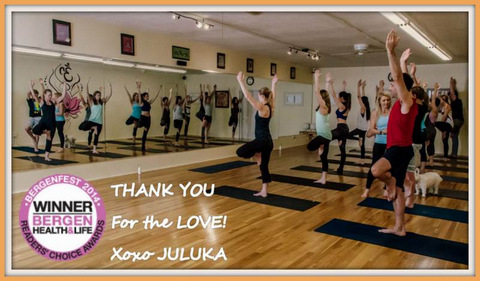 The event/substitution calendar on this page indicates if a class is cancelled (it will say "cancelled"), or if there is a substitute teacher. If there is nothing indicated on the calendar, it means that the class is scheduled as per regular schedule with regular teacher. We also indicate the teacher of the day when the class is shared by 2 teachers.Please check the schedules page for a description of the classes
Juluka Yoga Studio was conceived by a strong desire to provide more yoga opportunity for the growing number of practicing yogis and yoginis in the area. It is also our hope to expose and introduce yoga to those who have wondered and have been curious about it, but have perhaps been hesitant or even intimidated by the idea.
We recognize the full teachings and traditions of yoga. Hatha yoga is taught at the studio with a Vinyasa flow component. All our classes include some pranayama and meditation. The asana classes range from gentle, restorative, to a vigorous Astanga blend as well as some heated Vinyasa classes. We offer kids and teen yoga and Mat Pilates. We provide mats at no extra charge, or you can bring your own.
The word "juluka" means "sweat" in Zulu. 15% of the profits from the studio will help to feed and clothe AIDS orphans in Kwa-Zulu Natal, South Africa. 100% of profits from our community class donations go to various other charities.
We truly look forward to meeting you.
Namaste!
ONLINE SCHEDULE, BOOKINGS AND YOUR PERSONAL PROFILE