Next Warrior Series: schedule tba
The Warrior Series is a practice for cancer survivors and caregivers who want to share community space with other survivors and open their bodies and minds to the wonderful benefits of yoga. A mixed level flow that will challenge you just enough. Classes have the perfect combination of gentle stretching, breath control, asana flow, and soothing music to nourish you deep into your soul. Yoga poses are practiced at a safe, strong, gentle pace allowing the body and mind to open up and release while bringing the body and mind into balance. Verbal cues and modifications are given throughout the practice, making the class accessible to all levels, combining flexibility, strength and intention.  Yoga is practiced on the mats in a slow and steady flow.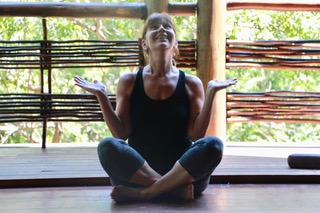 Series Teacher is Abby Denny, 500 hour yoga teacher and cancer survivor. In addition to her 500 hour certification, Abby has trained in yoga for cancer survivors and breast cancer for recovery. She has been teaching art Valley Hospital's Integrative Health department for 3 years.