777 Monthly Chakra Series 
(with Tea! Or BYOAB)
Journey along the 7 Chakras within 7 months at a 7pm monthly Chakra clearing yoga class with Liza Torres. Within this All Levels Yoga Flow, you will explore your connection to each Chakra through several poses helping find balance, clarity, and structure. Liza will also be using correlating gem stones, crystals and sound to resonate with each chakra. Each month we will focus on a different chakra, beginning on Friday, October 1st with the muladhara chakra, (our seat of survival) and ending April 1st with Sahasrara Chakra, (our connection to pure consciousness).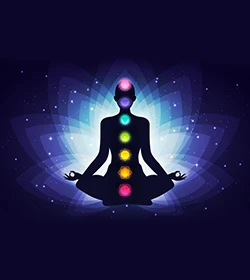 We will meet the first Friday of the month:
Oct 1, Nov 5, Dec 3, Jan 7, Feb 4, Mar 4, Apr 1.
Your magical, tantric journey begins this Friday and we are limiting the numbers, so please register soon. Liza will be serving tea afterwards and invites the participants to stay and engage in some social time. The series investment is $108. You may also purchase drop in classes for $20.
Sign up here to reserve your spot for this transformative experience!