COMMON SENSE FOR COMMON INJURIES: How to Practice Yoga Asana Safely and Apply Techniques to Aid in Recovery with Soo Yoon | ONLINE WORKSHOP via Zoom Meeting
TWO SESSIONS (meetings will NOT be recorded)
SUNDAY April 25th: 9:00am – 10:15am
SUNDAY May 2nd: 9:00am – 10:15am
Love your yoga classes, but sometimes that Downward Facing Dog is a real pain in the.. wrist? or hip? Have all the hours of working from home and stuck sitting in front of your computer left your back, neck, shoulders feeling weak and tight, making some poses you practice just not as accessible as it used to be?
You are not alone!
At different times in our lives, we may experience injuries and issues that arise – and yoga poses can both help – when aligned correctly for your body, or hurt – if ignoring sound alignment principles repeatedly.

This practical workshop aims to address the common pains / issues that may come up in common yoga asanas and positions, focusing mainly the muscles and joints of the: hands, wrists, elbows, shoulders, spine, hips, knees, ankles, feet. Then we make a plan on how to move ourselves towards relief.
WORKSHOP FORMAT
Intro/Lecture/Brief Conversation with participants
Yoga asana to explore the joint/muscle
Breakdown of what is happening when we move a particular way, and how to address
Practice the techniques to self-administer the ailing body part
**The topics covered in the workshop are aimed to be informative and offer suggestions that are commonly used in corrective exercise trainings and alignment-based yoga practices to aid those who may be suffering from minor injuries. It is not meant to be medical advice and it's recommended to check with a medical professional for your injuries before embarking on any exercise regimen. **
ATTEND ONE OR BOTH OF THE WORKSHOP CLASSES: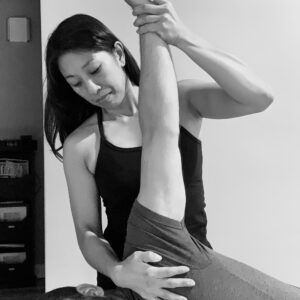 About the teacher: Soo Yoon is a Certified Advanced Yoga Teacher, ERYT 500 /YACEP with a background of studies that focus on alignment-based yoga, corrective exercises, and yoga therapeutics.