Mandy Grant
E-RYT 500
Owner and Head Teacher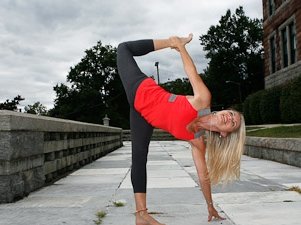 The first memory I have of yoga, was when I was a little girl in the 60's, watching my mom in a shoulder stand with a bunch of other ladies, in the local M.O.T.H hall. The fad did not last long, but the memory stayed with me. My next encounter was in the early 80's. At that point, I was jumping on and off Reebok steps, doing a zillion jumping jacks, and going for the burn. I dropped into a hatha yoga class, and thought it was some what interesting, but a tad boring. Until the teacher demonstrated the crow pose. I had always thought that yoga was for little old ladies! My interest was definitely elevated, but the yoga teacher and the class disappeared.
Then came the gentler 90's, and a lot more yoga. I was still a gym rat, teaching a few aerobics classes and pumping some iron. A woman began to teach a weekly yoga class at my gym. I attended a few classes, which were very gentle and basic, but I always felt better in my head when I left those classes. I knew after a few of these classes that this was what I had been searching for. I began my serious pursuit. My love for yoga grew with each class.
I knew from the beginning that I wanted to teach yoga, so I began to study in earnest. I have been blessed to have experienced the guidance and teachings of some of the most wonderful yoga teachers out there. They have included the well known, like Sri K. Pattabhi Jois, Shiva Rea, John Friend, Duncan Wong, Dharma Mittra and David Life and Sharon Gannon. I have also been taught by the lesser known names, and their guidance, teachings and inspiration have meant more to me than they will ever know.
I truly believe that yoga is the answer to so many problems in our world. It raises our consciousness, opens our hearts, and enables us to realize the innate compassion and love that exists in all of us. Although the teachings and theories of yoga are thousands of years old, they so apply to us today. I came to yoga initially to get fit, a better body, and if it made me more relaxed-well that was cool. I was not aware of all the other precious gifts I was to receive on the way.